14 Jul

Director of One of the Top Event Planning Companies in LA Wins Award

Los Angeles, California (August 5, 2015) – Ryan Zynger, owner and director Zynger Event Designs, Inc was named Event Designer of the Year at the annual BizBash 2015 Los Angeles Planners' Choice Awards. The event was held on the 24th of June at the Los Angeles Convention Center during BizBash Live: The Expo Los Angeles.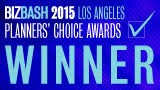 BizBash, the leading authority in the event industry annually organizes events and large gatherings for event planning companies and professionals alike. Among which are the BizBash Live events that are held in major cities like Los Angeles, New York, South Florida and Chicago. This year's BizBash Live event recognized some of the most talented professionals and most promising newcomers in the industry based on the nominations and votes of BizBash's loyal base of readers.
Ryan Zynger who nabbed the prestigious Event Designer of the Year Award is the director and owner of one of the top event planning companies in Los Angeles, Zynger Event Designs, Inc. Originally from British Columbia, Canada, he started his career in event planning after graduating in 1994. Before establishing his own company he worked first as a social event planner for the Canadian Military, a member of a Vancouver based event planning team, a Charitable Giving Coordinator of a non-profit organization, a Special Events Manager at the California Science Center, Co-Director of Programs for ISES, and Director of Operations for an event planning firm that raised funds for cancer research.
Mr. Zynger then decided to pursue a solo career in event planning where he can showcase his skills and talents. Since establishing Zynger Event Designs, Inc. in August 2008, he has had the opportunity to work with prominent organizations like Facebook, Los Angeles Arts Month, The Gay and Lesbian Center, and many more across the U.S. and internationally.
Zynger Event Designs, Inc. and Mr. Zynger would like to express their deepest gratitude to the voters and supporters who honored them with such a prestigious accolade.
For more information, go to www.Zynger.com.
About Zynger Event Designs, Inc.
Zynger Event Designs, Inc. is full-service design and production firm that was established in 2008. The company specializes in planning, organizing and designs for corporate and nonprofit events both in the local and international scene. Ryan Zynger and his team of talented event planning professionals use their skills and powerful tools to help their clients reach their target audience.